Church of St. Michael the Archangel in Tabariskes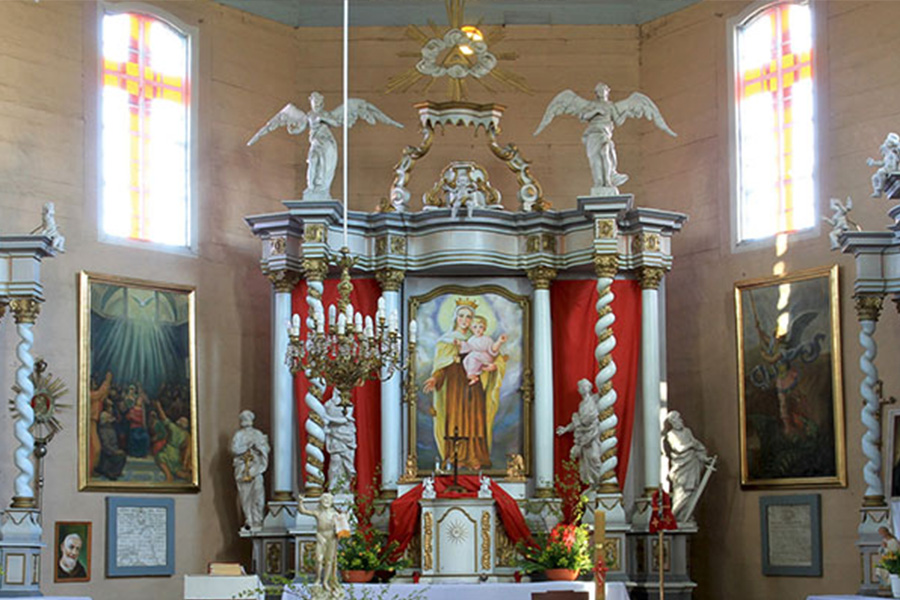 Our Lady of Mount Carmel, also known as Our Lady of Scapular, is situated in the main altar of the church. Even though the current image was created after the monastery had already been closed, its iconography testifies to the tradition of the Carmelites and to their piety to Our Lady of Scapular.
The newly ordained Fr. M. Sopocko was named assistant pastor at St. Michael the Archangel parish in the town of Tabariskes, where he served from 1914 to 1918. He taught religion to young people and children and created the parish choir and library. He also made visits to the nearby villages of Medininkai and Anzadava, where he established new chapels. The town's main street is named for Bl. M. Sopocko.
The first church in this town is thought to have been built in the early 16th century by Vaitiekus Taboras, after whom the locality is named. But little is known about the fate of that church. The founder of the new Church and monastery was Mykolas Vazinskis, a clerk of the Grand Duchy of Lithuania and a favorite of King Augustus III. The Church, named for its founder's patron St. Michael the Archangel, was intended from the start to be a family mausoleum, and the Carmelites of the Old Rule residing here were to constantly pray for their benefactors. At the start of the 19th century, the Carmelites were also tasked with caring for the parish. They were the true soul of the parish until the monastery was closed. They ran a school, a hospital, and a shelter for the poor. The Church continued functioning after the monastery was eliminated in 1832.
The only thing that makes this traditional Church building stand out is the undulating gable of its facade, which seeks to imitate the plasticity of stone Baroque structures. But the Church's interior features abundant carved wooden Baroque altars, as well as brightly colored wood and metal reliquaries of varied shapes and sizes with relics of diverse martyrs and saints. This reflects the deep faith of both ordinary people and nobility during the Baroque era in the intercession and communion of the saints. Old vestments have survived, along with liturgical vessels and a bell that was cast in Vilnius at the start of the 19th century. The altarpieces contain several works of great value. One of the most beautiful paintings is of Christ with a reed.