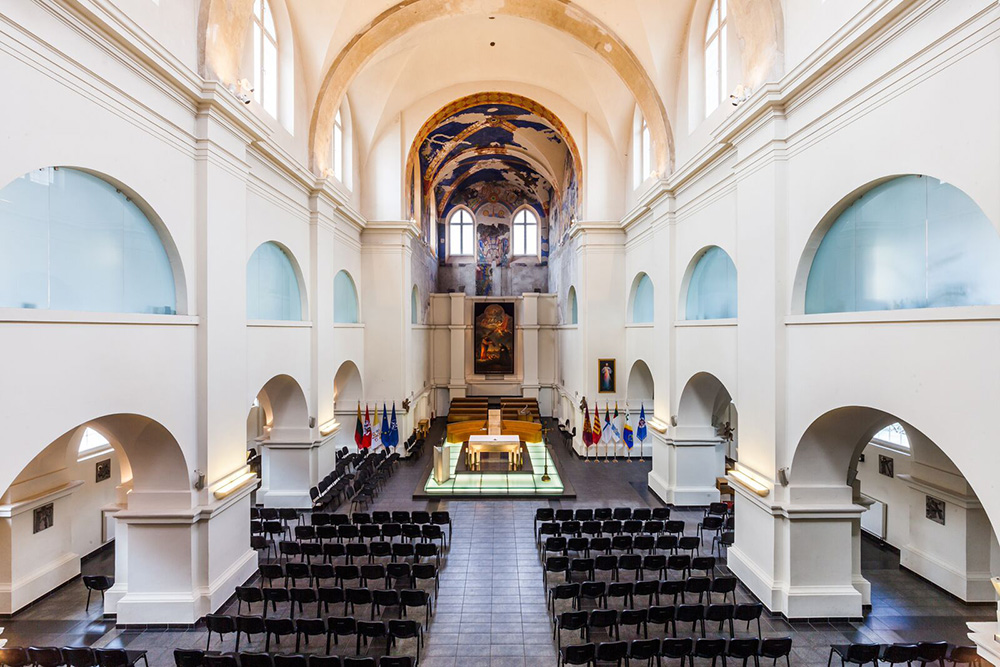 An image of Divine Mercy, which from 2011 until 2013 hung in a camp chapel in Ghor Province, Afghanistan, is now venerated in this Church.
St. Ignatius Church is named after the founder of the Society of Jesus, St. Ignatius Loyola. A painting from 1757 above the main altar, by the artist Simonas Cechavicius, portrays the vision experienced by St. Ignatius while he traveled to Rome with two friends.
The history of this Church began in 1569 when the first Jesuits settled in Vilnius and only had a Jesuit novitiate and service buildings at this location. Like other Jesuit churches in Lithuania, St. Ignatius Church is a basilica, with a dome and two steeples, one on each side of the presbytery. The interior was decorated with valuable frescoes. In 1737 the Church was heavily damaged by fire; thereafter, its reconstruction in the middle of the 18th century was supervised by architect Tomas Zebrauskas.
In 1798 the authorities transferred the monastery and Church to the Russian military. Consequently, the artificial marble altars were demolished, the decorative molding was destroyed, the interior of the Church was divided into three floors to provide accommodations for the soldiers, and stables were constructed. After uprisings in 1831 and 1863, the tsarist army set up barracks, stables and a casino for officers in the monastery and Church – the building thus lost its sacred status.
At the request of Bishop Matulaitis, military chaplain Blessed Michael Sopocko returned to Vilnius and took it upon himself to reconstruct the Church of St. Ignatius, to provide pastoral care to the army. It was consecrated in 1929. Fragments of the polychrome oriental artwork, created during Father Sopocko's reconstruction, are visible today on the vaulted ceilings of the Church. However, the original Baroque splendor was not restored – its current facade is only a stylized version of the facade that existed during the first half of the 17th century. During the Soviet years, a cinema and a film studio warehouse were set up in the Church. The former monastery buildings are currently used by the Lithuanian Ministry of National Defense, a movie theater, a restaurant, and Lithuania's Technical Library. In 2004, when the restoration of the Church was completed, Bishop Eugenijus Bartulis, the Military Ordinary of Lithuania, declared St. Ignatius Church the primary church of the military ordinariate in Lithuania. An image of Divine Mercy, which previously hung in a camp chapel in Ghor Province, in Afghanistan, is now venerated in this Church.
Church is opened
Monday–Friday – 7.30 a.m.–6 p.m.
Saturday – 4 p.m.–6 p.m.
Sunday – 9 a.m.–1 p.m.
Holy Mass (in Lithuanian)
Monday–Saturday – 5.15 p.m.
Sunday – 10.30 a.m.