Church of the Assumption of the Blessed Virgin Mary (Conventual Franciscans) (LT, PL, RU)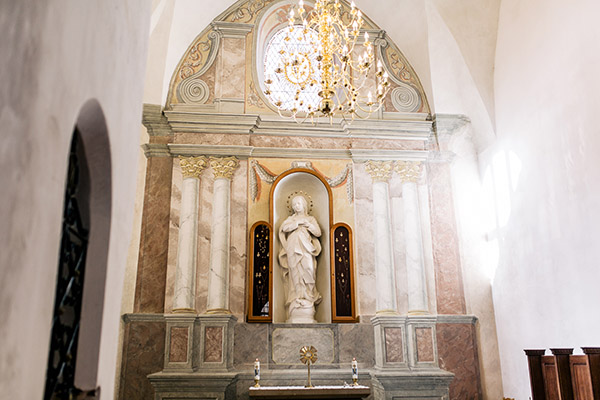 A niche in the church contained a sculpture of the Immaculate Conception of the Blessed Virgin Mary, known as the White Maiden. When the tsar closed the monastery in 1864, this sculpture was covered up and plastered, but later miraculously emerged from oblivion. From 1906 up to 1940, according to contemporaries, it became the second most venerated image of the Mother of God (after Our Lady of the Gate of Dawn) in Vilnius. White Maiden was venerated as a protector of families and the unborn, and as a peacemaker and intercessor for discordant families.
Archaeological investigations revealed that the location on Traku Street, where the Franciscan Conventual Friars Church stands, is one of the earliest locations in Vilnius where Catholicism was practiced. Archaeological finds at this location provide evidence that Christian burials at this site predate the construction of the first masonry church, built here at the end of the 13th century. Like most of the churches built by Grand Duke Vytautas and King Jogaila, this Franciscan Church is dedicated to the Assumption of the Blessed Virgin Mary. Its name is also written with the appendix "in Arena", i.e. "Smiltyne", refering to its location in the City.
In 1390, during crusader attacks on Vilnius castles, the Franciscan buldings were burned. In 1421 a new Church and monastery were built. More fragments of valuable monastic architecture, predating the 18th century, can be found in the Church than in the monastery. After the uprisings of the 19th century, the Church and monastery were closed, and the richly stocked library was taken away. Archives were established in the Church during the Soviet years, and in 1998 the Church was returned to the Conventual Franciscan Friars.
Near the fence, at the entrance to the Church and monastery grounds, there is a Baroque chapel of the Suzinu family, which was built to commemorate the residents of Vilnius who were killed by the Cossacks.
Opening times:
Mon.–Sun.– 10.00–20.00
Holy Mass (in Lithuanian):
Mon.–Fri. – 17.30
Sat., Sun.– 10.00
Holy Mass (in Polish):
Mon.–Fri. – 19.00
Sun. – 11.30, 13.00