The Church of St. Michael the Archangel (Church Heritage Museum)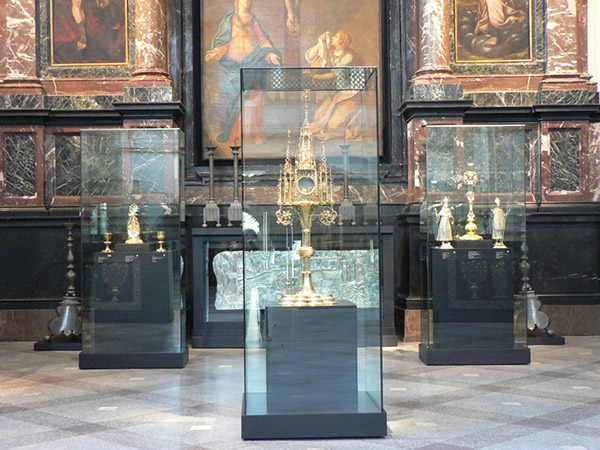 The great monstrance (Vilnius, 1535).
The Vilnius Cathedral Treasury is the oldest and most extensive of all the treasuries preserved in Lithuanian churches. The first items it acquired were rich liturgical articles donated by Jogaila and Vytautas of the Gediminid dynasty and their wives, along with gifts from abroad sent to celebrate Lithuania's official adoption of Christianity. Heads of state, nobility, and bishops bestowed magnificent liturgical articles on the cathedral: crosses, chalices, reliquaries, monstrances. In wartime, the valuables were removed and/or hidden, last ending up in a hiding place when World War II began.
St. Michael the Archangel Church and the former Bernardine Franciscan Sisters Monastery form an impressive Renaissance-era ensemble. Its construction and decoration were supported by Leonas Sapiega, one of the most prominent noblemen in the Grand Duchy of Lithuania in the 16th-17th centuries. The monastery housed strictly cloistered Bernardine Sisters. The Church served not only as a house of prayer but also as a mausoleum for the Sapiega family. On the eve of World War II, the contents of the Vilnius Cathedral treasury were hidden in a wall and bricked over. They were discovered in 1985 but were not shown to the public until 1999-2003 in exhibits at the Lithuanian Art Museum. In 2006, the entire Cathedral treasury was returned to the Vilnius Archdiocese and since 2009 has been on display at the Church Heritage Museum.
The Church of St. Michael the Archangel is the first sanctuary in Lithuania built as a mausoleum for a noble family. Five burial crypts remain beneath the church's floor. In some of it nuns are buried, in other laypeople. Leonas Sapiega is buried in the family crypt with his sons Jonas Stanislovas and Kristupas and other family members. Four early 17th-century burial monuments for members of the Sapiega family survive in the church and are of great value. They show the power, wealth, and subtle artistic taste of those who commissioned them.
In the Soviet era, the monastery and church were closed. The buildings were left unused and abandoned for a time and the church's 18th-century altarpieces and pulpit were demolished. Renovated after a fire in 1964, the church was opened as a museum of architecture, while the monastery premises were adapted to serve as a student dormitory, apartments, and industrial workshops. The church and dilapidated monastery buildings were returned to the Vilnius Archdiocese in 1993. In 2009, restoration of the ensemble was completed and the Church Heritage Museum opened to visitors.
Museum is opened
Tuesday–Saturday – 11 a.m.–6 p.m.
Closed on Sundays, Mondays and national holidays.
Closing time is one hour earlier on the eve of national holidays.