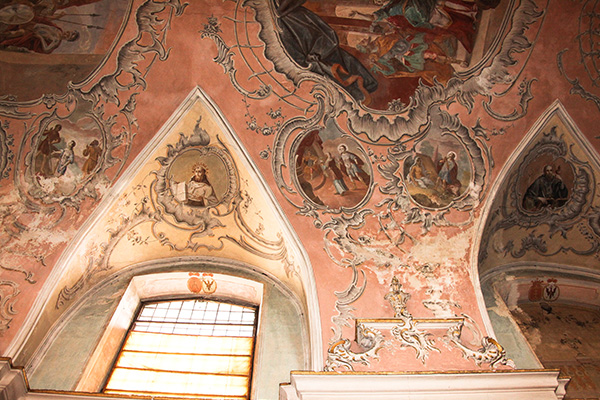 There are extremely rare fresco compositions inside the church featuring St. George's life and suffering.
St. George's Church and former Carmelite monastery from the late 18th century housed a seminary, which in the 1920s was combined with the Faculty of Theology at Vilnius University (known at the time as Stefan Batory University). Bl. M. Sopocko not only studied at this seminary but during most of his priestly life served here as a professor and spiritual director for the seminarians. He regarded his time spent at the seminary among the most fruitful years of his life. His attitude when working with students was that sincere charity is the most effective way to educate. And he remained in the memories of priests he helped form as a man of God with a deep interior life, who embodied the idea of a true spiritual father.
Built-in the 16th century in the Gothic style, the Church of St. George was part of the first Carmelite monastery of the Old Rule in Lithuania. The Church burned down in the 18th century and was rebuilt in late Baroque style. At the end of the 18th century, the Carmelites gave the buildings to the Vilnius seminary for priests, which functioned until the end of World War II. Nearly the entire architectural ensemble survives today, comprising the Church, a bell-tower gate, the monastery building, and auxiliary buildings. Its interior contains extremely rare frescos depicting the life and sufferings of St. George.
Books collected after World War II, by residents of Vilnius and other places, from cultural organizations that had been closed, homes of people who were exiled, and the Jewish ghetto, were brought to this Church, where some 3 million of them were found. Recently all books were moved to the Martynas Mazvydas National Library.