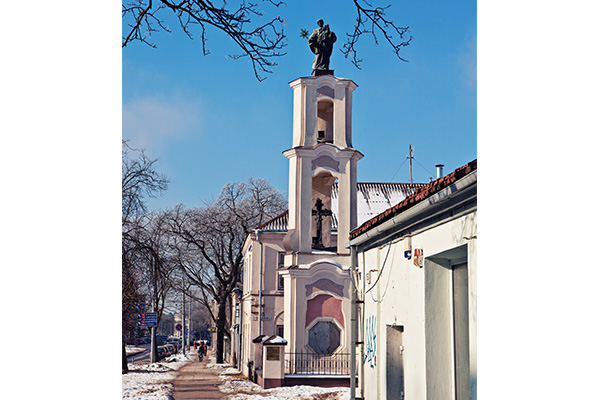 The Holy Door in this church, made of bronze, was installed and opened in 2016 during the Extraordinary Jubilee of Mercy. Created by sculptor Mindaugas Šnipas.
St. Hyacinth was one of the first monks to be accepted into the Order by St. Dominic himself. After completing his novitiate and taking his vows, St. Hyacinth, along with the other brothers, was sent to the missions in Poland. When the Dominican Province of Poland was established in 1228, St. Hyacinth was appointed as its provincial but refused this title.
He worked as a missionary, primarily in Russia, Prussia, and Poland. It is believed that he also visited Lithuania (around 1231), Latvia, Denmark, Sweden, and Norway. For that reason, St. Hyacinth was known as the "Apostle of the North." There is a legend that describes how St. Hyacinth miraculously saved the monstrance with the Blessed Sacrament and a Virgin Mary statue while being attacked by the Tatars in Kyiv. As a result, the iconography usually depicts this Saint holding a monstrance or chalice in one hand, and the Mother of God with Child sculpture in the other.
He died on August 15, 1257, in Krakow. His liturgical celebration is on August 17th. He was beatified in 1527 and declared a saint of the Church in 1594. In 1686 Pope Innocent XI named him a patron of Lithuania.
In 1501, the Dominicans built a wooden chapel near the former city limits of Vilnius to honor St. Hyacinth. Since he was considered the guardian of travelers, the chapel was intended as a place of prayer for those leaving Vilnius on long journeys. The chapel was constructed of masonry materials in the Baroque era, with a new statue of St. Hyacinth created in 1901. The old wooden sculpture was transported to the St. James and Philip Church and was placed in the Chapel of St. Hyacinth.