Church of the Redeemer and Monastery of the Community of St. John (LT, EN, FR, PL, RU)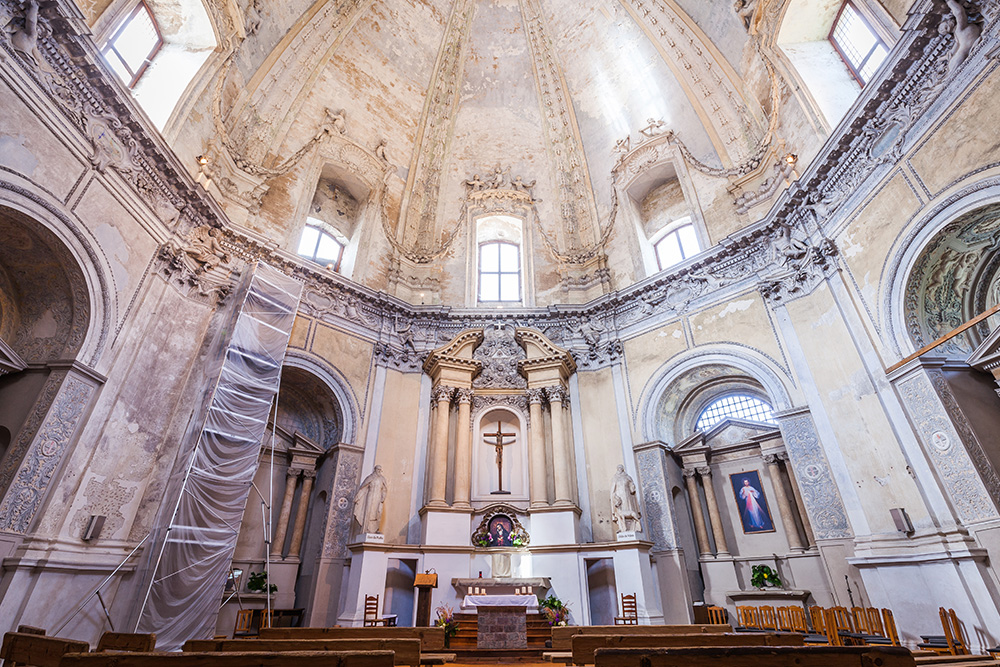 Pagrindiniame bažnyčios altoriuje – Nukryžiuotas Jėzus ir Aušros Vartų Gailestingumo Motinos paveikslas. Šv. Jono broliai siekia gyventi sekdami mylimojo Jėzaus mokinio apaštalo bei evangelisto Jono pavyzdžiu. Kaip ir apaštalas Jonas broliai stengiasi gyventi visiška ištikimybe Mokytojui bei sūnišku artumu Jo Motinai.
Trinitarian monks first arrived in Vilnius in 1693. This monastic order was established during the period of the Crusades; its mission was to free Christian captives by paying ransom demanded by nonbelievers.  The Trinitarians which came to Vilnius were from a reformed branch of the Order. During the wars with the Turks, King Jonas III Sobieskis aided the Trinitarians in Lithuanian and Polish territories. A splendid Church and monastery were built for them in a suburb of Vilnius on the land of the Sapiega residency, by Kazimieras Jonas Sapiega, the Hetman of the Grand Duchy of Lithuania and the Voivod of Vilnius. The Church was consecrated in 1716 and received the title of Most Holy Redeemer Jesus of Nazareth.
The Church was renowned for a miraculous statue of Jesus of Nazareth, which was sculpted in Rome and based upon the miraculous image of Ecce Homo, located in Madrid. Currently, the sculpture of Jesus of Nazareth is displayed at Sts. Peter and Paul the Apostles Church in Vilnius. Such sculptures were traditionally placed in the main altar of all Trinitarian churches.
The Church architecture and the surviving fragments of its decor are a testament to Trinitarian legacy and attest to the high artistic culture of the Shrine's founders. The sculptures, incorporated on the main facade of the Church, symbolize Trinitarian history: two Christian soldiers taken captive by nonbelievers, comforted by an angel.
In the 19th century Trinitarian monasteries were closed by the Tsar, and the Catholic churches were converted to Orthodox churches. The side altars, along with other interior decorations of Trinitarian Most Holy Redeemer Church were demolished, and army barracks were set up in the monastery. During the interwar period the monastery buildings were used by the University Hospital, and during the Soviet years the Church was turned into a military warehouse. The Seminary of Vilnius operated in the Trinitarian monastery ensemble beginning in 1993. In 2000, the Brothers and Sisters of the Community of St. John established the Monastery of St. John the Theologian here, where it is supported by a dynamic and active community of lay faithful.
Holy Mass (in Lithuanian):
Tues., Wed., Fri. – 18:30
Sat. – 10.00, 12:00
Sun. – 10:00, 12:00